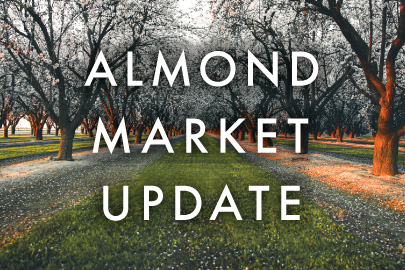 Laura Gerhard
Vice President
OVERVIEW
February marked a second consecutive month of record shipments at 246 million pounds as the industry improves its pace in comparison to last year. This is 7% higher to last month and 23% higher to last year. Shipments were mainly in line with industry expectations. Export shipments improved for a third consecutive month bringing the best performance of the crop year at 188 million pounds which is 15% higher than last month and 29% higher compared to the prior year. Domestic shipments came in at 57 million pounds which is 14% lower to last month but 8% higher than last year.  
SHIPMENTS
India: Shipments were 34.2 million pounds for the month of February, up 69% from same month last year. The Indian market has been remarkably consistent this season, shipping between 32 and 35 million pounds for six of the seven months of this crop season. Year-to-date shipments to India are up 5%. As we head into the tail end of the California crop season, demand remains healthy for the balance of the crop as pricing firmed coming out of bloom. 
 China: Shipments were 21.9 million pounds, a season-high and a 274% increase over the prior month. After trailing as much as 24%, China is now on par with last years shipment pace. Buyers remain active as market demand normalizes and adjusts following COVID. Attention is turning to the Australian crop with first shipments of new crop expected to arrive end of March when buyers will get their first look at quality.  
 Europe: Shipments to the European market were down 17.6% for the month compared to last year. Processors and traders throughout the region took longer positions in January at lower levels. These positions will ship over the coming months but overall demand in the European market remains subdued with expectations of holiday retail supplies lasting through Easter. Although the market is selling through its longer position, in-market inventories remain plentiful with many in the market being well covered after strong January purchasing.  Much of the European market has backed off as prices have firmed. 
  Middle East: Shipments to the Middle East remain strong with the market up 54% year-to-date and up 112% for the month compared to last year. Strong traditional consumption throughout the Middle East and Central Asia has been buoyed by low market pricing to consumers throughout the region, which in turn has driven exceptional volume year-to-date. With Ramadan around the corner, strong consumption should persist into the coming months. 
 Domestic: The domestic market posted 57.4 million pounds in new shipments in February. This performance is 8% higher versus last year closing a portion of the gap. The year-to-date total is now 5.5% behind last year. As the region and food manufacturers continue to battle the effects of inflation, overall consumption remains challenged with attractive market levels not passed through to the end consumer as seen in other global markets. 

COMMITMENTS
February commitments took a step back at 785 million pounds which is down 8.5% to last year and new sales for the month were 190 million pounds, down 11.5% to last year. Uncommitted inventory incrementally improved to 1.0 billion pounds, down 12.2% to last year. Sold and shipped as a percent of the total supply (assuming a 2.55 billion pound crop) is 69% compared to 66% last year.
CROP
2022 crop receipts total 2.52 billion pounds after February receipts which is down 12.8% to last year. The crop appears to be settling near 2.55 billion pounds.  
Attention is currently on the weather and its potential effect on the 2023 almond crop. California is receiving some much-needed rainfall, but unfortunately, it coincided with the almond bloom. Wet weather along with cold temperatures have limited bee flight hours for much of the bloom. California is expected to receive additional precipitation over the next 7 days. The first clue of the effects to the crop will be the end of April but in reality, will take many more weeks to understand the full impact to production
Market Perspective
Shipments continue their strong pace with February recording the best performance of the crop year. Momentum continues to build in the export market with shipments building on last year's performance to date. The Middle East continues to impress coupled with a China market positioning itself for post-COVID demand.
Global buyers have taken advantage of affordable pricing as evidenced by recent months' shipments. As a result, the price has stabilized and even firmed across the almond complex. New sales for the month were lighter versus last season as the industry reacted to unfavorable weather during peak bloom which discouraged activity in the back half of the month. Market prices have firmed in light of the uncertain impact to crop production.
With the 2022 crop closing in on 2.55 billion pounds, the industry turns its attention to the final stages of the almond bloom. Cold temperatures and rain are forecasted to endure for the remainder of the bloom period. It will take weeks to understand the true impact of this event and what it means to 2023 almond production.
To view Blue Diamond's Market Updates and Bloom Reports Online Click Here 
To view the entire detailed Position Report from the Almond Board of California Click Here