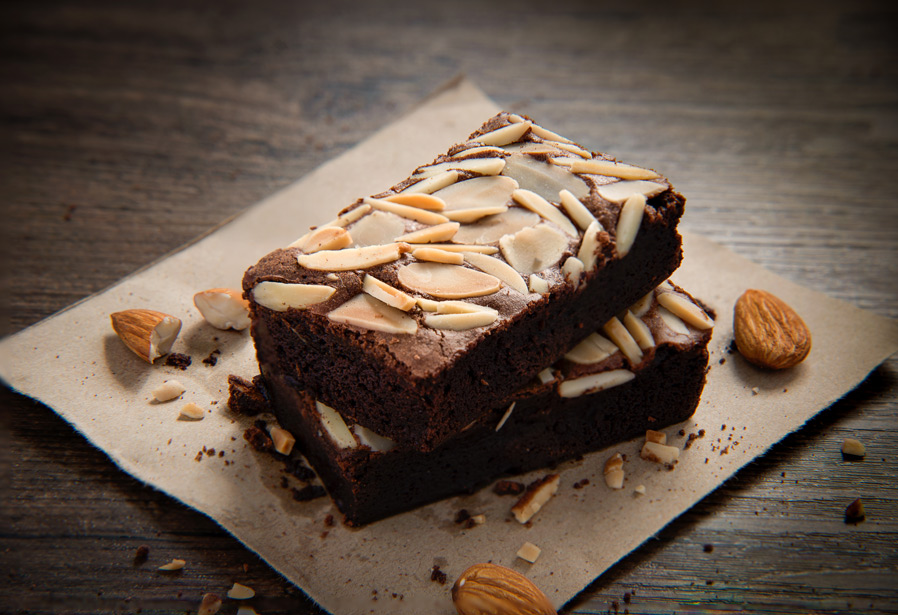 Better-For-You Bakery Series
Check out our better-for-you bakery recipe inspirations, including:
Almond protein cookies
Almond flour cake
Double chocolate almond brownies
A study by Taste Tomorrow found that 60% of consumers prefer baked goods that help them with their specific nutritional needs, such as added protein or gluten-free, displaying that the healthy eating trend of better-for-you-bakery is here to stay1. Instead of derailing nutrition goals, health-conscious consumers are now able to indulge in a better-for-you version of their favorite cookies, cakes, brownies and more.
Here are three inspirations that can help you meet the better-for-you bakery demand:
1. Almond Protein Cookies
Almond protein cookies satiate the consumer demand for both added protein and something sweet, creating a sought-after better-for-you dessert alternative. Unlike other plant-based protein powders, almond protein powder incorporates seamlessly within cookie formulations thanks to its neutral taste and smooth mouthfeel. Bringing around 20 grams of protein to the cookie, almond protein powder helps consumers reach their protein goals without sacrificing taste.
A survey from 2021 found that 73% of consumers believe a cake can be healthy and delicious2. Formulators can meet these expectations by incorporating almond flour into cake batter for a gluten-free masterpiece. The smooth mouthfeel, texture, and clean taste of almond flour is accompanied by added health benefits including fiber and protein.
3. Double Chocolate Almond Brownies
Whether you prefer brownies rich and fudgy or light and fluffy, almond flour allows formulators to develop a better-for-you treat for all to enjoy. When baking with almond flour, you can choose from extra fine blanches, extra fine natural or fine blanched almond flour to best fit the desired texture. High in protein, fiber, antioxidants and healthy fats, formulators can reinvent the brownie for today's health-conscious consumers.
If you're looking for more information on healthy alternatives, sign up for an on-demand link to our recent webinar "Non-Dairy Growth Trends," hosted by Loretta Kelly, our Director of Strategic Marketing. Contact us today to learn more about trending better-for-you bakery categories. 
References:
1 "Taste Tomorrow 2022 trend forecast for bakery, patisserie & chocolate," Taste Tomorrow. January 2022.
2 "Understanding consumer attitudes towards baked goods in 2021," Food Manufacture. 2021.
Sign Up for Monthly Access
to the Latest Insights!
Sign Up for Monthly Access to the Latest Insights!