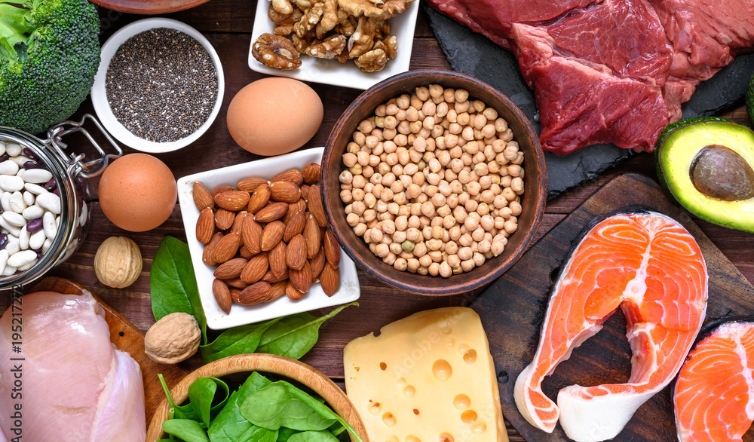 Functional Foods Growth Series
Dive into the growth of functional foods and beverages, with future implications for developers, including:
Functional replacement for select vitamins and minerals
Immune-supporting benefits for a balanced diet
Specific trending claims
The pandemic increased consumer awareness of health and wellness, with nearly half of U.S. adults reporting that they are choosing healthy foods more often than they were a year ago, according to Mintel1. However, healthy eating goes beyond just sticking to healthy diets. Instead of just focusing on the micro-trends, such as ketogenic or vegan, health-focused consumers are turning to foods that make them feel good, sleep better and have increased mental clarity.
Mintel2 reports that hard "low/no" claims, like no sugar or low sodium, are becoming less common as consumers increasingly associate "real food" with health. Products with "low/no" claims are often seen as unhealthy, and processed with additives. In contrast, consumers consider whole, "real foods" as the most natural and appealing option to maintain a long-term healthy lifestyle.
Here are three trending growth areas for innovative, functional foods and beverages of the future:
1. A focus on "food as medicine":
Consumers all over the world are choosing to get their essential micronutrients the natural way-through consuming functional foods and beverages, rather than through vitamin and mineral supplements. In fact, Mintel states that 58%3 of consumers are finding functional drinks to be more appealing than traditional vitamins, minerals and supplements. Mintel3 also found that 55% of adult consumers would prefer to get their necessary nutrients from nutritious natural foods and beverages. With the shifting consumer mindset of "food as medicine," product developers have a large-scale opportunity to use the power of plants to create a delicious, functional product.
2. A desire for immune-boosting, specialized diets:
Because the pandemic caused some to overindulge in things like baked goods, consumers are now even more likely to stick with healthier foods in order to restore a more balanced diet1. Mintel2 found that many consumers may not make meaningful changes to their diets, but instead will rely on immune-supporting products containing natural ingredients that have vitamins and minerals, as they perceive such products as an easy, preventive health measure. While consumers are notably adding immune-boosting, functional products to their standard diet, food and drink brands have not created enough products to keep up with demand.
Mintel's Global New Product Database3 found that less than 0.5% of food products, and only 2% of drink products launched in 2020 carried an immune-support claim. Formulators can take advantage of this emerging market by providing the highly sought-after functional foods and beverages to help consumers find the balance they want.
In addition to more immune-focused diets, consumers are also turning to other specialized diets that promote health and wellness. This includes, but is not limited to ketogenic, plant-based, free-from, and sometimes all of the above. Formulators can utilize the popularity of these specialized diets by combining them with added functional benefits consumers are looking for to create an in-demand, health-focused product.
3. A need for products that support eye health:
The increased demand for functional foods and beverages that claim to provide age-related benefits is an indirect result of the pandemic. As professionals around the world have shifted to working from home and students have navigated virtual learning, many consumers are beginning to express concern about age-related issues, specifically with eye strain. Mintel2 says 36% of consumers experience eye strain and/or fatigue after looking at a screen for a long time, and 36% are concerned about the effects of electronic screens on their vision. Additionally, 35% of US vitamin, mineral and supplement consumers would like to see products that support eye health, pointing to opportunities for food and beverage products to promote healthy vision.4 Mintel found that despite the consumer interest in eye health products, only 0.3% of beverages launched in 2020 carried eye health claims. Younger consumers are just as concerned about their long-term health as older generations, which means the importance of age-related functional claims, such as eye health, will only increase.
The superfood benefits of almonds are ideal for formulators looking to enter the emerging functional foods and beverages market. According to the Almond Board of California5, almonds are one of the most nutrient-dense foods available, providing an impressive array of vitamins, minerals and other nutrients, which makes almonds the perfect addition to a functional product innovation. Formulators can also incorporate almond-based ingredients to achieve a functional application. For example, using almond flour instead of a traditional wheat flour not only appeals to gluten-free consumers, but also attracts health-conscious consumers who are looking to get the most functionality out of their breads, brownies, cakes and more.
Looking to enter the functional foods and beverages market with a healthy innovation? Check out our tips for how to incorporate almonds into functional recipes here.
References:
1 "Better for You Eating Trends, "Mintel. 2021.
2 "Food and Drink Nutrition Claims: Including Impact of COVID-19 US," December 2020.
3 "Functional Drinks," 2021.
4 "Dairy is ideally suited for eye health benefits," July 2021.
5 "Powerful Nutrition," The Almond Board of California. 2021.

Subscribe for More
Blue Diamond Insights